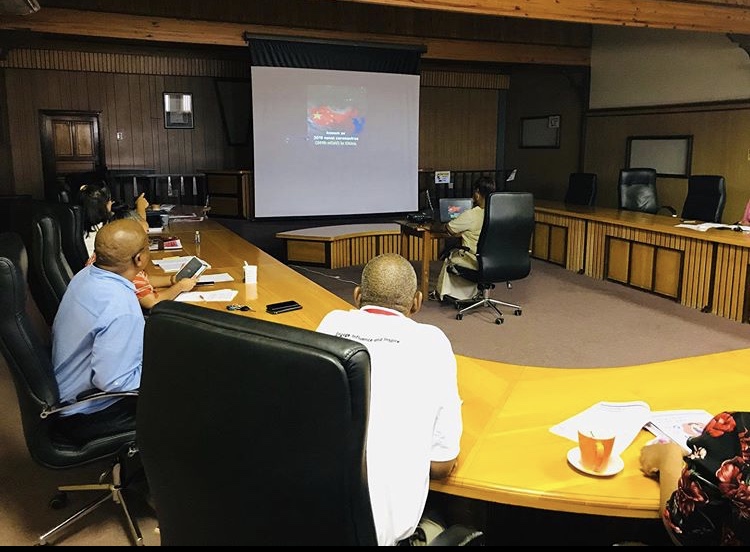 SENIOR MANAGEMENT - COVID-19 INFORMATION SESSION
On the 19th of March senior managers and staff at COGHSTA had an information session on Corona Virus COVID-19, how to prevent contamination and how to contain it. The meeting was aimed at preparing for the containment/management of COVID-19 at all COGHSTA Buildings. Here is what you need to know about Corona Virus COVID-19 (source: 1mg's Coronavirus: No Panic Helpguide)
Covid-19 is an infectious condition that affects your respiratory tract (your nose, throat, airways and lungs)
The risk of death is higher in persons above the age of 60 and/or persons with underlying illnesses such as HIV, Diabetes, Heart diseases and the like.
Almost 80 percent of persons who do not fall under the above group of high risk persons, can recover from mild symptoms in up to two weeks.
An infected person can spread the disease to others through the eyes nose and mouth through droplets produced when coughing or sneezing, close contact with an infected person or coming into contact with contaminated surfaces or objects/items.
You can suspect you have COVID-19 if you have symptoms such as a dry cough, sneeze, shortness of breath and if you have come into contact with an ill person or travelled to an affected area. You may only test for COVID-19 if you have the above mentioned symptoms or you have come into contact with such persons or travelled to affected areas.
Corona Virus can be treated according to the symptoms displayed.
Corona Virus can survive for up to 8-10 hours on a surface.
A three layer disposable surgical mask or a cloth mask can help protect you from the droplets that spread the virus. It is lockdown regulation to wear a mask when you leave your home.
It is also advised that you wash your hands regularly with soap and water for at least 20 seconds and in the case that you do not have access to water use an alcohol based hand sanitiser.
Do not touch your eyes, hands and mouth
Avoid handshakes and/or any other physical contact with other persons. Greet each other using your elbow or feet.
Do not cough or sneeze into your hands. Rather cough or sneeze into your elbow.
Adhere to lockdown regulations and only leave home when necessary.